This article has yet to be cleaned up to a higher standard of quality.
You can help by correcting spelling and grammar, removing factual errors and rewriting sections to ensure they are clear and concise. Visit our
Cleanup Project
for more details.
David Speyrer is a software developer for Valve.
Biography
David has a BSEE from Louisiana and six years of experience in network and serial communications software development and project management. PC games have been David's passion since he started programming at the age of 11. David was living and working in Boulder, Colorado, when he played through "Half-Life: Day One." Soon he was packing his belongings and putting his house up for sale. David now says that Valve was about the only thing capable of compelling him to leave Boulder's rock climbing and 300 days of sun per year. An eternal optimist, David is convinced that the sun will come out "any day now" so that he can go climbing.[3]
Prior to joining Valve in March 1999,[4] David developed telecommunications software in Boulder, Colorado. During his time at Valve he has been a programmer/designer and cabal lead on Half-Life 2[1] and Half-Life 2: Episode Two. He has also worked quite a lot on the dreaded Hammer level editor over the years. A fan of recreational physical suffering, David goes rock climbing in his spare time and has dragged many a pale and shaking Valve employee on adventures in vertiginous terror.[2]
He is married to Kanisha Speyrer.
His face was one of several to be used for the head model of Gordon Freeman.[5]
Complete gameography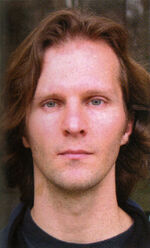 References
External links
Community content is available under
CC-BY-SA
unless otherwise noted.