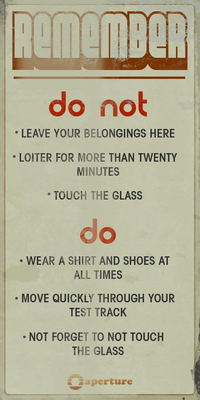 The wiki's Portal Project was launched after Portal 2's release to improve any article related to Portal and its sequel, and its ties with the Half-Life continuity, as a specialized Cleanup Project.
The list
What follows are various tables where all concerned articles are listed by category, with the different points to take care of, or that have been taken care of. Following Portal 2's release, many Safe, Good or Featured articles ceased to fill their status requirements, and have been downgraded to "For clean up".
Each category is typically overseen by an admin. Feel free to contribute and give your impressions and suggestions in the talk page; the more editors get involved, the sooner the project is completed.
The fields used work as follows:
"Article" is the name of the page.
"Article status" is the current article status (Safe, Good, or Featured, For clean up, or Cleaned up - each as a small logo).
"Image amount" is whether the number of images on the page is satisfactory.
"In-universe coverage" is about the amount of storyline / gameplay elements present in the article. Related to the stub status, and empty or incomplete sections.
"BTS coverage" is the behind-the-scenes coverage of the article. Also related to the stub status and empty or incomplete sections.
"Comments" are self-explanatory, and not necessarily needed.
When a point is achieved, a green check (

) is applied by an admin. When not, a red X (

) is used. An empty field means the related point is irrelevant to the article.
When you feel a red X can be turned into a green check, notify the admins on the talk page. It's as simple as that!
Characters
Overseer admin: A-06
Technology
Overseer admin: KATANAGOD
Weapons
Overseer admin: Madnessfan4537
Locations
Overseer admin: Madnessfan34537
Misc.
Overseer admin: Adapool
Songs
Overseer admin: KATANAGOD
Real world
Overseer admin: Adapool
Community content is available under
CC-BY-SA
unless otherwise noted.