Dead Cells Final DLC - The Loop
Play Sound

This article has yet to be cleaned up to a higher standard of quality.
You can help by correcting spelling and grammar, removing factual errors, rewriting sections to ensure they are clear and concise, and moving some elements when appropriate. Visit our Cleanup Project for more details and, please, notify the administrators before removing this template.
Louis Gossett, Jr. (born May 27, 1936) is the voice actor for the Vortigaunts in Half-Life 2 and Half-Life 2: Episode One. He was replaced by Tony Todd for Episode Two. He is best known for his role in the Iron Eagle film series. Gossett stepped into the world of cinema in the Sidney Poitier vehicle A Raisin in the Sun in 1961.
Biography
Early life
Gossett was born in Sheepshead Bay, Brooklyn, New York, to Hellen Rebecca (née Wray), a nurse, and Louis Gossett Sr., a porter. He is an alumnus of Mark Twain Intermediate School 239 and Abraham Lincoln High School. His stage debut came at the age of 17, in a school production of You Can't Take It with You when a sports injury resulted in the decision to take an acting class. Polio had already delayed his graduation.
After graduating from Abraham Lincoln High School in 1954, he attended New York University, declining an athletic scholarship. Standing 6 feet 1 inch (1.85 m) tall, he was offered the opportunity to play varsity basketball during his college years at NYU, which he declined to concentrate on theater. His high school teacher had encouraged him to audition for a Broadway part, which resulted in his selection for a starring role on Broadway in 1953 from among 200 other actors well before he entered NYU.

Career
Gossett replaced Bill Gunn as Spencer Scott in Broadway's Take a Giant Step,[1] which was selected by The New York Times drama critics as one of the 10 best shows of the year. He was 17, and still a student at Abraham Lincoln High School, with no formal drama training.
Gossett's Broadway theatre credits include A Raisin in the Sun (1959). Gossett stepped into the world of cinema in the Sidney Poitier vehicle A Raisin in the Sun in 1961.
Also in 1961, Gossett appeared in the original cast of Jean Genet's The Blacks, the longest running off-Broadway play of the decade, running for 1,408 performances. The original cast also featured James Earl Jones, Roscoe Lee Browne, Cicely Tyson, Godfrey Cambridge, Maya Angelou and Charles Gordone.[2]
In 1965, Gossett appeared in the musical play The Zulu and the Zayda on Broadway as Paulus with music and lyrics by Harold Rome.
Gossett wrote the antiwar folk song "Handsome Johnny" with Richie Havens which Havens recorded in 1966.
His Emmy Award-winning role of Fiddler in the 1977 television miniseries Roots first brought Gossett to the audience's attention.
In 1983, he was cast in the title role in Sadat, a miniseries which chronicled the life and assassination of Anwar Sadat. While filming An Officer and a Gentleman, Gossett was also starring in the 1982–1983 science fiction series, The Powers of Matthew Star. His role as drill instructor Gunnery Sergeant Emil Foley in the 1982 film An Officer and a Gentleman won him an Academy Award for Best Supporting Actor. He was the first black male to win an Oscar in a supporting role, the second black male to win for acting, and the third black actor to win overall.
In 1986, Gossett starred in another role as a military man (Colonel Chappy Sinclair) in the film Iron Eagle. It was followed by three sequels.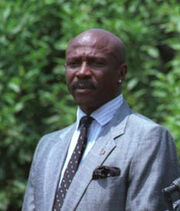 In 1989, Gossett co-starred in the Marvel Comics adaptation The Punisher, with Dolph Lundgren in the title role. The film was directed by Mark Goldblatt, with a screenplay by Boaz Yakin. The Punisher was filmed in Sydney, Australia and also featured Jeroen Krabbé, Kim Miyori, and Barry Otto.[3]
In 1991, Gossett starred in Manny Coto's action film Cover Up opposite Dolph Lundgren.[4]
Gossett is the voice of the Vortigaunts in the video game Half-Life 2 and is the Free Jaffa Leader Gerak in Season 9 of the sci-fi television series Stargate SG-1. He provides the voice of Lucius Fox in The Batman animated series. He recorded several commercials for a Nashville-based diabetic company, AmMed Direct, LLC. In 1997, Gossett presented When Animals Attack! 4, a one-hour special on Fox.
He played the role of fictional U.S. President Gerald Fitzhugh in the 2005 film Left Behind: World at War. In 2008, he filmed the "Keep It Real" series of commercials for the Namibian lager Windhoek.
In 2009, Gossett also lent his voice talents in the Thomas Nelson audio Bible production known as The Word of Promise. In this dramatized audio, Gossett played the character of John the Apostle. The project also featured a large ensemble of well known Hollywood actors including Jim Caviezel, John Rhys-Davies, Jon Voight, Gary Sinise, Jason Alexander, Christopher McDonald, Marisa Tomei and John Schneider.[5][6]
In 2013, Gossett starred in the controversial drama Boiling Pot, which is based on true events of racism that occurred on college campuses across the US during the 2008 Presidential election. The film, written and directed by the Ashmawey brothers under AshmaweyFilms, also stars Danielle Fishel, Keith David, M. Emmet Walsh, and John Heard. Gossett plays a detective attempting to decipher a murder case that was fueled by racism, all while putting aside his own prejudices. Boiling Pot was released in 2014. Gossett returned to television in the CBS All Access series, The Good Fight, guest starring as founding partner Carl Reddick of Diane Lockhart's new firm.[7] He narrated an audiobook based on Twelve Years a Slave.[8]
Personal life
Gossett has been married three times and fathered one son and adopted one son. His first marriage was to Hattie Glascoe; it was annulled. His second, to Christina Mangosing, took place on August 21, 1973. Their son Satie was born in 1974. Gossett and Mangosing divorced in 1975. His third marriage, to Star Search champion Cyndi James-Reese, took place on December 25, 1987. They adopted a son, Sharron (born 1977). Gossett and James-Reese divorced in 1992.[9]
Louis is the first cousin of actor Robert Gossett who starred on TNT's The Closer.
Gossett states that in 1966 he was handcuffed to a tree for three hours by the police in Beverly Hills.[10]
On February 9, 2010, Gossett announced that he had prostate cancer. He added the disease was caught in its early stages, and he expected to make a full recovery.[11][12]
On July 18, 2016, Gossett cohosted as a guest programmer on Turner Classic Movies' primetime lineup. Allowed to choose four movies to air, he selected Blackboard Jungle, Lifeboat, Touch of Evil and The Night of the Hunter.
Works
Film
Year
Title
Role
Notes
1961
A Raisin in the Sun
George Murchison
1969
The Bushbaby
Tembo
1970
The Landlord
Copee
1971
Skin Game
Jason O'Rourke
1972
Travels with My Aunt
Zachary/'Wordsworth'
1973
The Fuzz Brothers
Francis Fuzz
1973
The Laughing Policeman
Insp. James Larrimore SFPD
1974
The White Dawn
Portagee
1976
The River Niger
Dr. Dudley Stanton
1976
J. D.'s Revenge
Rev. Elija Bliss
1977
The Deep
Henri Cloche
1977
The Choirboys
Calvin Motts
1980
It Rained All Night the Day I Left
Leo Garcia
1982
An Officer and a Gentleman
Gunnery Sergeant Emil Foley
Academy Award for Best Supporting Actor

Golden Globe Award for Best Supporting Actor – Motion Picture NAACP Image Award for Outstanding Actor in a Motion Picture

1983
Jaws 3-D
Calvin Bouchard
Nominated — Golden Raspberry Award for Worst Supporting Actor
1984
Finders Keepers
Century
1985
Enemy Mine
Jeriba 'Jerry' Shigan
Nominated — Saturn Award for Best Actor
1986
Iron Eagle
Chappy Sinclair
1986
Firewalker
Leo Porter
1987
The Principal
Jake Phillips
1987
A Gathering of Old Men
Mathu
1988
Iron Eagle II
Chappy Sinclair
1989
The Punisher
Jake Berkowitz
1991
Cover Up
CIA boss Lou Jackson
1991
Toy Soldiers
Dean Parker
1992
Aces: Iron Eagle III
Chappy Sinclair
1992
Diggstown
'Honey' Roy Palmer
1993
Monolith
Capt. MacCandless
1994
Flashfire
Ben Durand
1994
Blue Chips
Father Dawkins
1994
A Good Man in Africa
Prof. Sam Adekunle
1994
Curse of the Starving Class
Ellis
1995
Iron Eagle on the Attack
Chappy Sinclair
1996
Managua
Paul
1997
The Wall That Heals
Narrator
1997
Legend of the Mummy
Corbeck
1999
Y2K [it]
Morgan
2000
The Highwayman
Phil Bishop
2002
Deceived
Col. David Garrett
Direct-to-video release
2005
Window
Ralph Stanley
Included as part of African American Short Films
2005
Left Behind: World at War
President Gerald Fitzhugh
2006
All In
Caps
2006
Club Soda
Doc
2007
Daddy's Little Girls
Willie
2007
Cover
Det. Hicks
2008
The Perfect Game
Cool Papa Bell
2008
Delgo
Zahn
Voice only
2009
Dog Jack
Grown up Jed
2009
Shannon's Rainbow
Max
2009
The Least Among You
Samuel Benton
2010
Smitty
Mr. Smith
2010
Why Did I Get Married Too?
Porter
2011
The Grace Card
George Wright
2011
A Fonder Heart
Glen
2011
The Lamp
The Genie
2012
The Undershepherd
Bishop Redford
2014
A Fighting Man
Cubby
2014
The Dependables
Lou Jones
2015
Boiling Pot
Detective Haven
2017
Undercover Grandpa
Mother
2017
Double Play
Coco
2017
Breaking Brooklyn
Miles Bryant
2019
Foster Boy
Judge
2019
The Cuban
Luis Garcia
2019
Supervized
Pendle
Television
Year
Title
Role
Notes
1958
The Big Story
Jamie Goodwin
Episode: "The Stubbornest Man"
1962
The Nurses
William Taylor
Episode: "The Prisoner"
1967–68
Cowboy in Africa
Fulah

Hemera

Episode: "Fang and Claw"

Episode: "The Quiet Death"

1968
The Invaders
Ollie
Episode: "The Vise"
1968
Daktari
Mkono
Episode: "Adam and Jenny"
1968
Companions in Nightmare
Lt. Adam McKay
NBC television film
1968
The Mod Squad
Sgt William Smith (Smithy)
Episode: "When Smitty Comes Marching Home"
1970
The Bill Cosby Show
Hurricane Smith
Episode: "The Return of Big Bad Bubba Bronson"
1970–71
The Young Rebels
Isak Poole
1971
Big Fish, Little Fish
Jimmie Luton
1971
The Partridge Family
Sam
Episode: "Soul Club"
1971
Bonanza
Buck Walter
Episode: "The Desperado"
1971
Longstreet
Sergeant Cory
Episode: "The Way of the Intercepting Fist"
1971
The Bold Ones: The New Doctors
Dr. Karnes
Episode: "One Lonely Step"
1971
Alias Smith and Jones
Joe Sims
Episode: "The Bounty Hunter"
1971
Cade's County
Episode: "The Alien Land"
1972
Insight
Episode: "The Man from Inner Space"
1972
The Living End
Doug Newman
CBS television pilot
1972
The Rookies
Toby Jones
Episode: "Covenant with Death"
1972
Love, American Style
Freddy
Segment: "Love and the Christmas Punch..."
1968–69,

1972

The Mod Squad
Smitty

Lloyd Charley Jameson

Episode: "When Smitty Comes Marching Home"

Episode: "The Uptight Town" Episode: "Can You Hear Me Out There?"

1973
Owen Marshall: Counselor at Law
Episode: "An Often and Familiar Ghost"
1974
It's Good to Be Alive
Sam Brockington
CBS television film
1974
Sidekicks
Jason O'Rourke
TV remake of Gossett's 1971 Skin Game

CBS television film

1974
The White Dawn
Portagee
ABC television film
1974
McCloud
Dewey Justin
Episode: Shivaree on Delancy Street
1974
The New Land
Simon York
Episode: "The Word is: Dignity" (never aired)
1974–75
Petrocelli
D.A. Kurt Olson
Episode: "A Very Lonely Lady" and "A Fallen Idol"
1974–75
Good Times
Donald Knight

Uncle Wilbert

Episode: "Thelma's Young Man"

Episode: "Michael's Big Fall"

1975
Lucas Tanner
Bobby Koball
Episode: "Bonus Baby"
1975
Black Bart
Black Bart
CBS television film
1975
Delancey Street: The Crisis Within
Otis James
NBC television film
1975
Caribe
David Wallace
Episode: "The Assassin"
1975
Harry O
Cleon Jackson
Episode: "Shades"
1975
The Jeffersons
Wendell Brown
Episode: "George's Best Friend"
1975
The Six Million Dollar Man
O'Flaherty
Episode: "Clark Templeton O'Flaherty"
1975–76
Police Story
Freddie

Virgil Barnes

Episode: "The Cut Man Caper"

Episode: "50 Cents-First Half Hour, $1.75 All Day"

1976
Little House on the Prairie
Henry Hill
Episode: "The Long Road Home"
1976
The Rebels
1976–77
The Rockford Files
Marcus 'Gabby' Hayes
Episode: Foul on the First Play and Just Another Polish Wedding
1977
Little Ladies of the Night
Russ Garfield
ABC television film
1977
Roots
Fiddler
ABC miniseries

Primetime Emmy Award for Outstanding Lead Actor for a Single Appearance in a Drama or Comedy Series TV Land Award

1977
Visions
Rex
Episode: "Freeman"
1978
The Sentry Collection Presents Ben Vereen: His Roots
Nominated — Primetime Emmy Award for Individual Performance in a Variety or Music Program
1978
To Kill a Cop
Everett Walker
Uncredited Role

NBC television film

1978
The Critical List
Lem Harper
NBC television film
1979
Backstairs at the White House
Levi Mercer
NBC miniseries

Nominated — Primetime Emmy Award for Outstanding Lead Actor in a Limited Series or a Special

1979
Lawman Without a Gun
Tom Hayward
NBC television film
1979
The Lazarus Syndrome
Dr. MacArthur St. Clair
ABC television film
1980
Palmerstown, USA
Fredrick Douglas Jackson
Nominated — Primetime Emmy Award for Outstanding Lead Actor in a Drama Series
1981
Don't Look Back: The Story of Leroy 'Satchel' Paige
Leroy 'Satchel' Paige
ABC television film
1982
American Playhouse
Episode: "Zora Is My Name!"
1982
Benny's Place
Benny Moore
ABC television film
1982
Saturday Night Live
Host
Episode: "Louis Gossett Jr/George Thorogood & the Destroyers"
1982–83
The Powers of Matthew Star
Walter 'Walt' Shepherd/D'Hai
1983
Sadat
Anwar al-Sadat
Television film

Nominated — Primetime Emmy Award for Outstanding Lead Actor in a Miniseries or a Movie Nominated — Golden Globe Award for Best Actor – Miniseries or Television Film

1984
The Guardian
John Mack
Nominated — CableACE Award for Best Actor in a Movie or Miniseries

HBO television film

1987
A Gathering of Old Men
Mathu
CBS television film

Nominated — Primetime Emmy Award for Outstanding Lead Actor in a Miniseries or a Movie

1987
The Father Clements Story
Father Clements
NBC television film
1988
Sam Found Out: A Triple Play
ABC television film
1988
Goodbye, Miss 4th of July
Big John Creed
Disney Channel television film
1988
Roots: The Gift
Fiddler
ABC television film
1989
Gideon Oliver
Gideon Oliver
1990
El Diablo
Van Leek
HBO television film
1990
Sudie and Simpson
Simpson
Television film
1991–92
Captain Planet and the Planeteers
Commander Clash
Voice role (3 episodes)
1991
The Josephine Baker Story
Sidney Williams
HBO television film

Golden Globe Award for Best Supporting Actor – Series, Miniseries or Television Film

1991
Carolina Skeletons
James Bragg
NBC television film
1992
Keeper of the City
Det. James Dela
Television film
1993
Story of a People
Host
Miniseries
1993
Gridiron Gang
Host
Documentary film
1993
Father & Son: Dangerous Relations
NBC television film
1993
Return to Lonesome Dove
Isom Pickett
Miniseries
1994
Picket Fences
Rick Jennings
Episode: "Terms of Estrangement"
1994
Ray Alexander: A Taste for Justice
Ray Alexander
NBC television film
1995
A Father for Charlie
Walter Osgood
1995
Zooman
Rueben Tate
1995
Ray Alexander: A Menu for Murder
Ray Alexander
1996
Captive Heart: The James Mink Story
James Mink
Nominated — NAACP Image Award for Outstanding Actor in a Television Movie, Mini-Series or Dramatic Special

Television film

1996
Run for the Dream: The Gail Devers Story
Bob Kersee
Television film
1996
Inside
Questioner
Television film
1997
Touched by an Angel
Anderson Walker
Episode: "Amazing Grace"

NAACP Image Award for Outstanding Supporting Actor in a Drama Series Nominated — Primetime Emmy Award for Outstanding Guest Actor in a Drama Series

1997
To Dance with Olivia
Daniel Stewart
CBS television film
1997
In His Father's Shoes
Frank Crosby/Richard
Showtime television film

Daytime Emmy Award for Outstanding Children's Special Nominated —CableACE Award for Best Children's Special - 7 and Older Nominated — Daytime Emmy Award for Outstanding Performer in a Children's Special

1997
Early Edition
Jim Matthews
Episode: "The Medal"
1997
Ellen
Sgt. Timko
Episode: "G.I. Ellen"
1998
The Inspectors
Inspector Frank Hughes
Showtime television film
1999
Love Songs
Reuben
Segment: "A Love Song for Dad"; Showtime television film

Black Reel Award for Best Director: T.V. Movie/Cable Nominated — Black Reel Award for Best Actor: T.V. Movie/Cable

1999
Strange Justice
Vernon Jordan
Showtime television film
2000
Dr. Lucille
David Mulera
Television film
2000
The Inspectors 2: A Shred of Evidence
Inspector Frank Hughes
Showtime television film
2000
The Color of Love: Jacey's Story
Lou Hastings
CBS television film

Nominated — Satellite Award for Best Actor – Miniseries or Television Film

2001
For Love of Olivia
Daniel Stewart
CBS television film
2002
Opening Ceremony Salt Lake Paralympic Winter Games
Narrator
Nominated — Daytime Emmy Award for Outstanding Special Class Special
2002
What About Your Friends: Weekend Getaway
Dr. Barnes
UPN television film
2002
Resurrection Blvd.
Ezekiel 'Zeke' Grant
Episode: "En Un Momento" and "Esperando Lagrimas"
2003
The Dead Zone
Pastor David Lewis
Episode: "Zion"
2003
Jasper, Texas
R.C. Horn
Nominated — NAACP Image Award for Outstanding Actor in a Television Movie, Mini-Series or Dramatic Special

Showtime television film

2003
Momentum
Raymond Addison
SCI FI television film
2004
Half & Half
Ray Willis
Episode: "The Big Lover, My Brother Episode" and "The Big Thanks for Nothing Episode"
2005
Solar Attack
President Ryan Gordon
Direct-to-DVD release
2005
Lackawanna Blues
Ol'lem Taylor
HBO television film
2005–06
Stargate SG-1
Gerak
5 episodes
2006
Family Guy
Sergeant Angryman
Voice role

Episode: "Saving Private Brian"

2007
The Batman
Lucius Fox
Voice role
2009
ER
Leo Malcolm
Episode: "The Family Man"
2012
Psych
Lloyd
Episode: "Heeeeere's Lassie"
2013
Boardwalk Empire
Oscar Boneau
Episode: "Havre de Grace"
2014–15
Extant
Quinn
Recurring; 4 episodes
2014
Madam Secretary
Father Laurent Vasseur
Episode: "The Call"
2015
The Book of Negroes
Daddy Moses
2 episodes
2015
The Spoils Before Dying
Duke Webster
Episode: "The Trip Trap"
2017
The Good Fight
Carl Reddick
Episode: "Reddick v Boseman"
2018
Hap and Leonard
Bacon
6 episodes
2018
Hawaii Five-0
Percy Grover Sr.
Episode: "Lele pū nā manu like" (Hawaiian for: "Birds of a Feather...")
2019
Watchmen
Will Reeves/Hooded Justice
7 episodes

Nominated — Primetime Emmy Award for Outstanding Supporting Actor in a Limited Series or Movie
Theatre
1964: Supporting role in the Broadway musical adaptation of Odets' Golden Boy.
References
External links