Michael David Shapiro[3] (born c. 1966[1]), credited in-game as Mike Shapiro, is an American voice actor for the Half-Life series. He has also provided voice acting for other video games, such as Blood II: The Chosen (for which Kathy Levin and Lani Minella also provided a voice).
Of Jewish ancestry, he has also performed voice work for the television, radio, in some feature films, and is an acclaimed theater director.[2] He has also directed many TV sitcoms.
With Harry S. Robins, Shapiro is one of the few voice actors who has done voice acting for all of the Half-Life games.
Work for the Half-Life series
Half-Life and its expansions
Half-Life 2 and its episodes
Biography
Michael Shapiro was born in 1966, in Springfield, Massachusetts. He first got a taste for acting when he played God in a school play. In his early 20's, Shapiro helped launch the Annex Theatre and performed in some of their productions. Shapiro still performs in theatre productions to this day. Most recently, he created the 'Buffalo Nickels Band' in 2013 and is a member of the band along with Kate Prascher.[4]
Other works
Film, television and video game work
Despite being best known for his work in the Half-Life series, Shapiro has also starred in other notable media. His on-screen roles include Lovers Lane (1999 film) in which he portrayed Deputy David Schwick and Georgia (1995 film) in which he portrayed Brian. He has done mostly voice work, having narrated the TV series Interpol Investigates. He has many video game voice credits, including the psychotic French chef Richard Goblin in Grand Theft Auto: Liberty City Stories, Torin and Boogle in Torin's Passage and Sergeant Markossian in Police Quest: SWAT 2. He has voiced many television commercials, including the Staples "That Was Easy" button commercials before being replaced in 2007.[5] As a writer he has written for Comedy Central, Nickelodeon, Discovery Channel and NPR[6]. He has also worked extensively with comedy writer Rob Kutner. In early 2005, Shapiro was asked to perform voice work in Black Mesa (mod). Although he showed interest in the mod, he declined due to being too busy at the time.[7] His most recent voice credit is for the video game Dota 2.
Directing career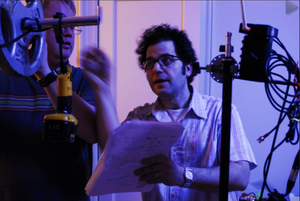 As a director, Shapiro has directed the film "
A Problem With Sharks
" which screened widely in the U.S. and internationally.
[2]
He has also directed the TV pilot, "
Family Values
", which was selected in the New York Television Festival.
[2]
Furthermore, he directed the
Strike.TV
comedy series
Global Warming
in 2008.
Theater
Shapiro has performed in shows like Camelot and Dracula. He himself has also directed many theater productions. He helped launch the Annex Theatre in 1987. Most recently, he has performed in the 2012 productions, Eavesdropping on Dreams[8] and Motel Cherry[9].
Personal life
Shapiro lived in Seattle until moving to Brooklyn, New York in 2000. He is married to fellow director and former Annex member, Peggy Stafford, and has two children.
Gallery
References
External links